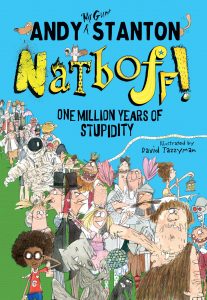 WELL, DIP ME IN HISTORY AND CALL ME A TIME TRAVELLER! It's the brand new book from the author of the award-winning and bestselling Mr Gum series!
NATBOFF! is a hysterical collection of stories, all set in Mr Gum's hometown of Lamonic Bibber. Strap on your laughter goggles as you embark on a time-travelling journey through the funniest and maddest moments in history. From the Stone Age to Medieval times, from the Great Fire to the First World War, to one million years in the future, it's all here – and it's all completely crazy.
Meet the town's most famous residents, including: Natboff the caveman! Princess Snowflake! A malcontent squirrel! Strange Mildred the witch! A talking grape called Plover! Cribbins, the mysterious Victorian inventor, who invented mysterious Victorian things! And plenty more besides!
Packed full of stories, poems, an extremely odd history of the British monarchy, and even a 'Shakespearian' play (penned by William's less-famous brother, Terry) – and with plenty of Easter eggs for Mr Gum fans to spot along the way – this book is perfect for fans of Horrible Histories, Roald Dahl and David Walliams. Plus it's the only one that's got the word 'kingandqueeniest' in it, most likely.
With hilarious illustrations by David Tazzyman.